Neil Campisano, Drums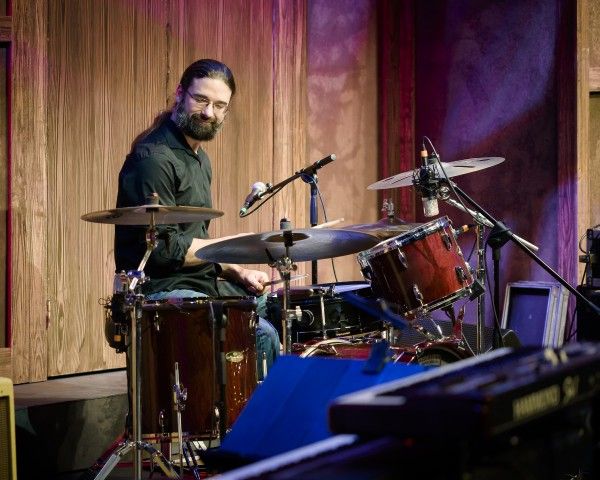 photo by Lee Holmes
It all started back in 1985 when he first heard Spirit of Radio by Rush. From that day on Neil's life would be foreverchanged. Growing up outside of Boston he spent the next summer picking blueberries to save up money for his first drum set, and the rest, as they say is history. Spending his childhood practicing and playing in local bands he had the opportunity to open for Godsmack at The Living Room with his band Madcap back in the 90's, tracked albums for Shine, his high school band and being part owner of Blues Alley Recording Studio he's spent tons of time tracking drums and helping produce bands.
While mostly self taught Neil has had a few perspective changing moments in his drumming career. From a private lesson with Gary Chaffee, to spending a day in the studio with 
Alex Acuna
, to the countless hours spent at drum clinics and live shows where he can usually be found in the best seat in the place; as close to the drummer as possible!!  
Since settling in Northern California in 2007 he has established himself as an in demand drummer playing everything thing from Blues to Jazz and Country to Classic Rock with a big ole' helping of the 
Grateful Dead
 catalog. Whether he's sitting in for a headlining spot with Achilles Wheel at Just Exactly Perfect Fest or opening up for Joe Louis Walker at the Sophia Theatre with Katie Knipp, he can easily adapt to the situation at hand. He's had the pleasure of sharing the stage with members of Phil Lesh and Friends, co-billed with the likes of Moonalice and Joe Craven, and has played with over 100 different musicians. These days between fill-ins, one off gigs and the 10 main bands he plays with (Katie Knipp, The Todd Gardner Band, Old Mule, Saints of Circumstance, The Aaron Brown Band, The Nipper Brothers, Commerce TX, Balling That Jack, August Jazz Band and The Joe Nipper Blues Band) his calendar is pretty full, so if you're looking for him there's a good chance you'll find him sitting behind his kit.
Chris Martinez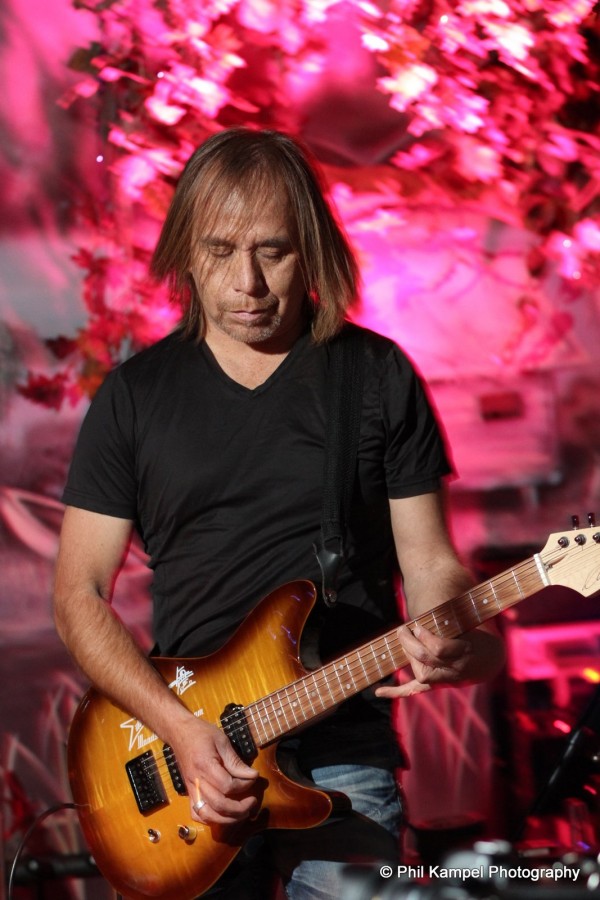 Chris Martinez has had a long Relationship with the blues.  From Northern California, he started as an Acoustic player influenced by Stephen Grossman finger style Ragtime, to bottle neck Robert Johnson, to electric players starting with the three Kings.
With his father being from Texas, Chris has always been drawn to the Texas players Lightning Hopkins, Billy Gibbons, Anson Funderburgh, Jimmie and  Stevie Ray Vaughan. 
He is  most known for his long running Blues trio "Hollywood Texas" started in the early 90's playing clubs and Hells Angels events along with private and corporate events.
With longtime drummer Lance Robbins and a few bass players, Andrew Browne (Beer Dogs) Jay Peterson (little Charlie and the Nightcats) HT was an opening act for Commander Cody, Jimmy Rogers, and many others.
Chris spent much time at Sams Haf Brau (Sacramento Ca) jammin with Johnny Heartsman, Johnny Guitar Knox, Steve Samuels, Omar Sharif, and other local greats.  It was his week day visits to San Francisco to the The Saloon and the Grant & Green that started his friendship with Johnny Nitro who taught him the music (blues) business: "Keep it Greasy... don't get too polished. Continue to play with other artists often." Advice Chris has not forgot.
Chris went on to spend two years Backing blues vocalist  Arbess Williams, later another two with Guitar Mac, opening for Bobby Blue Bland, John Hammond, Albert Collins, Little Milton,Charles Brown, Ray Charles, Chuck Berry. and many others, then in 08 filling a NYE gig cancellation a call from Sacramento guitarist Jimmy Papastathis, bassist Steve Schofer (Mick Martin) Drummer Steve Price (Pablo Cruise) Vocalist Dana Moret (Lydia Pense) Mr December was formed and did many shows. Then in 2010 an opportunity came, Chris  put together a new band called "Hollywood Texas Blues" With Sacramento Drummer Pete Philis, legendary hammond organ player Kevin Burton (Joe Louis Walker) 
NYC Jazz bassist Zach WestFall (session/touring artist) HTB would later tour the lower US states for two years, all before he joined Katie's band in 2019.
Pancho Tomaselli, Bass (shared role)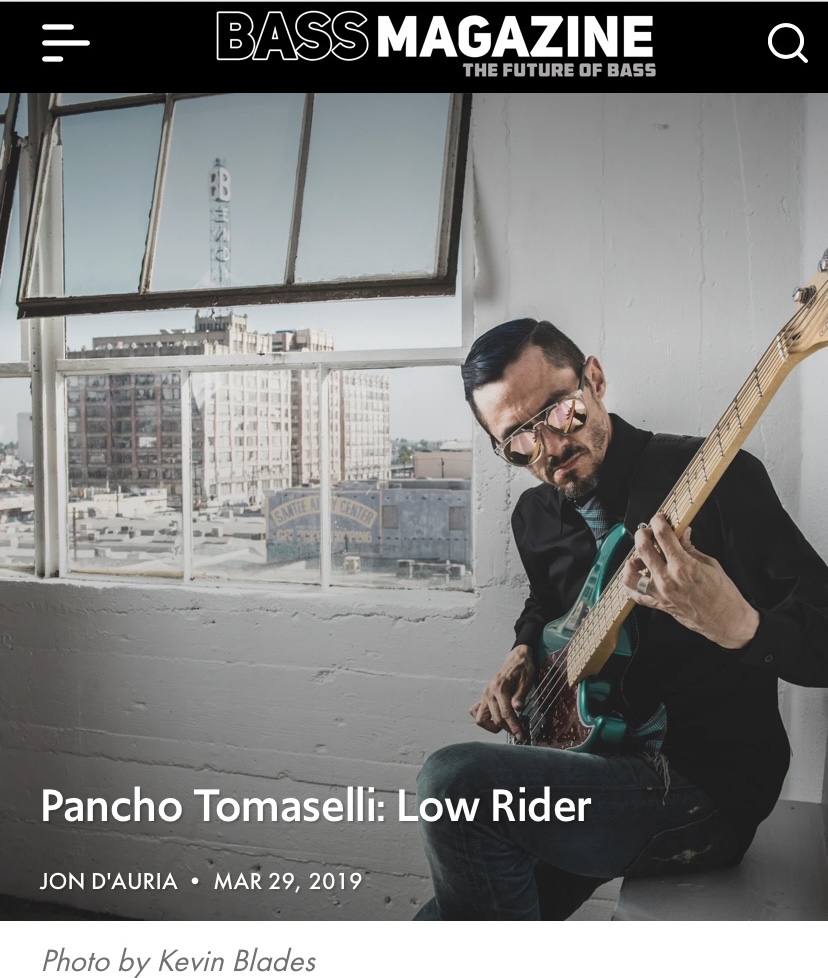 Joining Katie's band in Summer of '23 and recording on her 8th album, Pancho will be sitting in on some of the shows as well.
(exerpts from 2019 Bass Magazine) "Regardless of where he is or whom he's with, Pancho Tomaselli is always the biggest personality in any room he steps into. Whether it's his lightning-fast wit, the abundant life lessons that he's quick to impart, his hilarious tour stories, or the intense charisma he embodies when he sparks up a conversation, the 44-year-old has a swagger all his own. And when it comes time to step onstage, the Ecuadorian-born 4-stringer's playing somehow overshadows his persona. That's why legendary acts such as War, Tower Of Power, Rex Brown, Eric Burdon, Dos Lobos, Tricky, Nelly Furtado, and many others have enlisted his powerful playing for their music.
Tomaselli moved from Ecuador at age 20 to attend the Berklee College of Music, but not to study bass. Instead he graduated with a degree in Music Business and Management. From there he moved to Los Angeles, where he landed a high position with Virgin Records in its A&R department, which led him to work with Janet Jackson, the Rolling Stones, Lenny Kravitz, Ben Harper, and a slew of others before he got the itch to jump to the other side of the desk to pursue music once again. Several bands instantly recruited him before he got the call to join War, a bass chair he proudly held for 16 years. This eventually led to him stepping in for Rocco Prestia in Tower Of Power for a series of tours in 2013.  From there, Tomaselli decided to create his own music. That's when he helped form the rock trio Philm, featuring drummer Dave Lombardo (Slayer) and guitarist Gerry Nestler. Now sans Lombardo, Philm is preparing to release its third album, Time Burner. The release will coincide with the debut album, Original Human Music, from his other outfit, Ultraphonix, a hard-hitting rock supergroup that features Corey Glover (Living Colour), George Lynch (Dokken), and drummer Chris Moore. When he's not occupied with those bands, Tomaselli is keeping busy writing original music and scores with his old mates from Dig Infinity and putting the finishing touches on his new signature-series basses from G&L Guitars.
Jen Rund, Bass (shared role)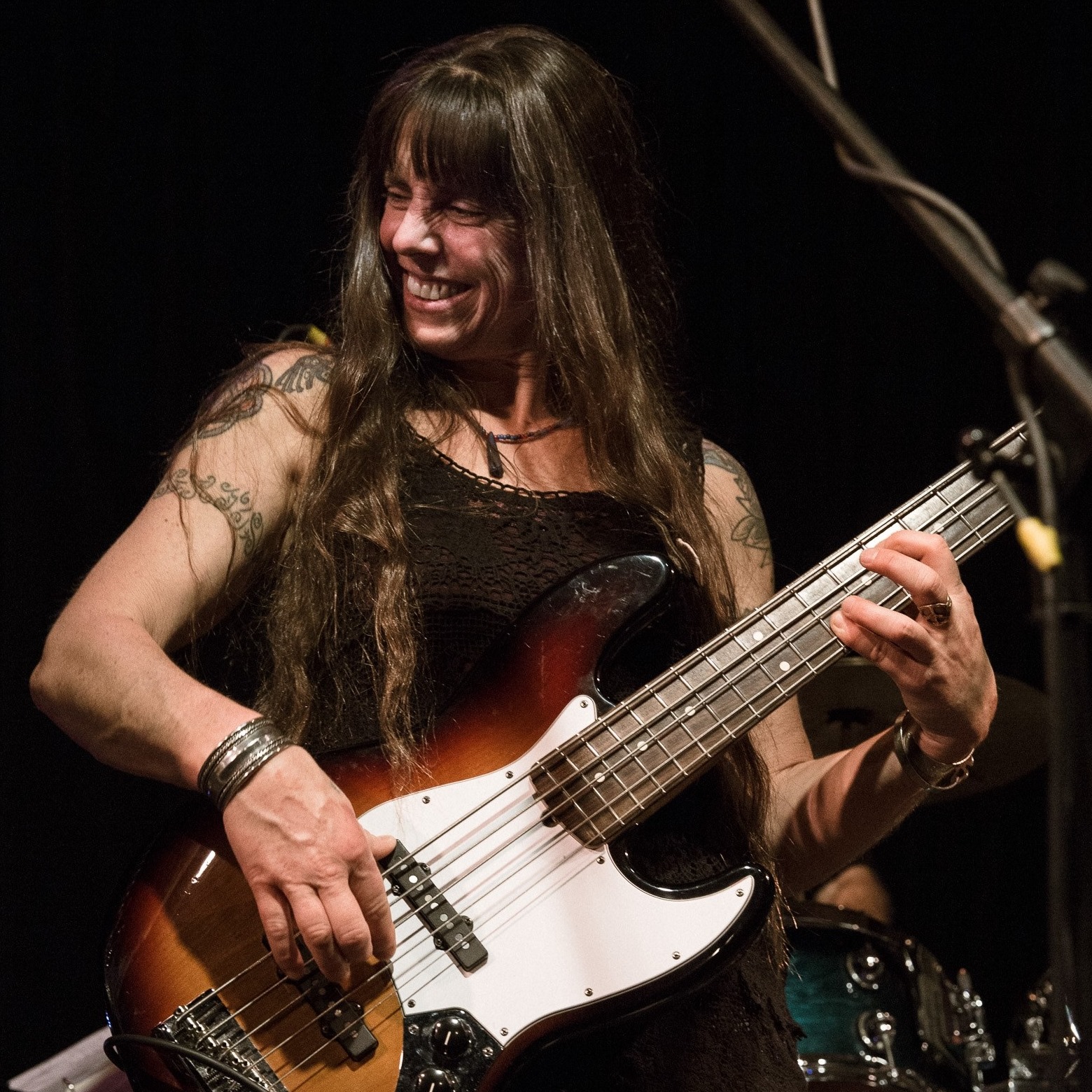 Born and raised in northern California, Jen Rund began her love affair with music at an early age.  She played many instruments - cello, clarinet, piano, guitar - before discovering the electric bass at 15.  She went on to perform and record in a wide variety of genres, including: rock, pop, folk, Latin, jazz, R&B, funk, and blues, in venues ranging from clubs to festivals.  Jen has also enjoyed playing in ensembles for musical theater. 
Always in pursuit of excellence, Jen is grateful to have had the opportunity to study with world-class bassists: Victor Wooten (Bela Fleck and the Flecktones); Kai Eckhardt (Garage Mahal, John McLaughlin); and Luis Guerra (Patty Griffin, Bobby Shew, composer and award-winning producer). 
She has had great fun sharing the stage with many incredibly talented players, including:  Karl Denson (Rolling Stones); Coco Montoya and Brant Leeper (Coco Montoya Blues Band); Mark Clark (Ottmar Leibert, Cat Stevens); Larry Mitchell (Tracy Chapman); Barry Sless (David Nelson Band); Mark Karan (Bob Weir's Ratdog); Stu Allen (Phil Lesh and Friends); Jason Crosby (James Taylor); Reed Mathis (Billy and the Kids); and Joe Craven (David Grisman/Jerry Garcia), among others. 
Deeply influenced by every aspect of her musical exploration, Jen has a style all her own, and brings a passionate joy of playing to all of her musical endeavors.
Steve Utstein, Hammond Organ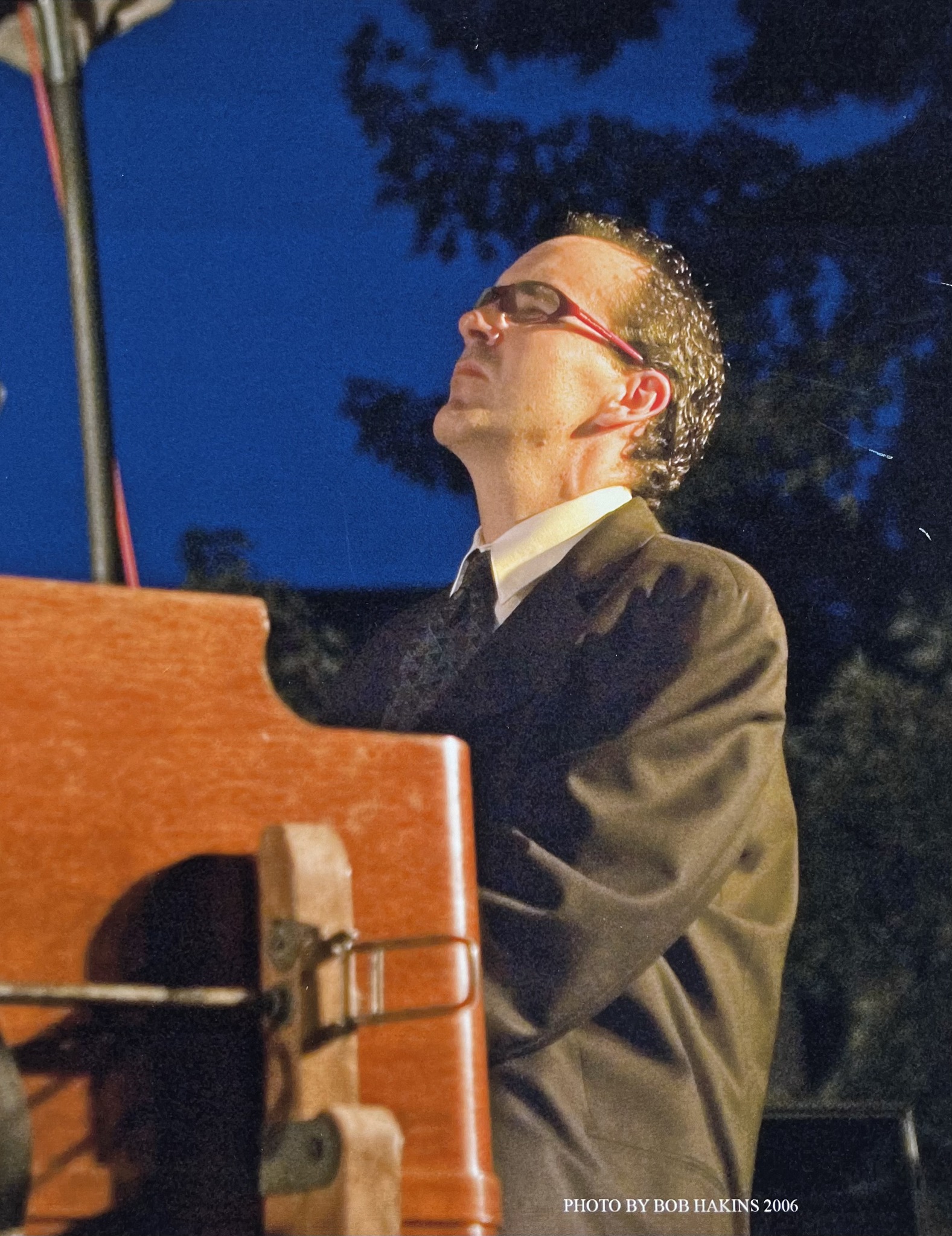 Steve was born in New Zealand and grew up playing mostly classical music, earning a degree in composition. He became fluent, and then masterful, first on cello, and then on keyboards.  
Steve moved to Chicago in 1996, touring and gigging with many blues artists including Junior Wells, Lonnie Brooks, and Bo Diddley.  
Two years later, he moved to Hawaii and joined up as keyboardist of the Piranha Brothers.  
After his stint with the PBs, Steve moved to LA and began a plethora of sessions and recording, touring and recording with members of the Rolling Stones and Guns and Roses bands.  
Steve was an active member of Café R and B for 20 years, a band that once again took him around the world. He now lives outside San Francisco playing funk and blues - living the dream!  Katie and Co. are pleased as punch to play with him.  

Justin Au, Trumpet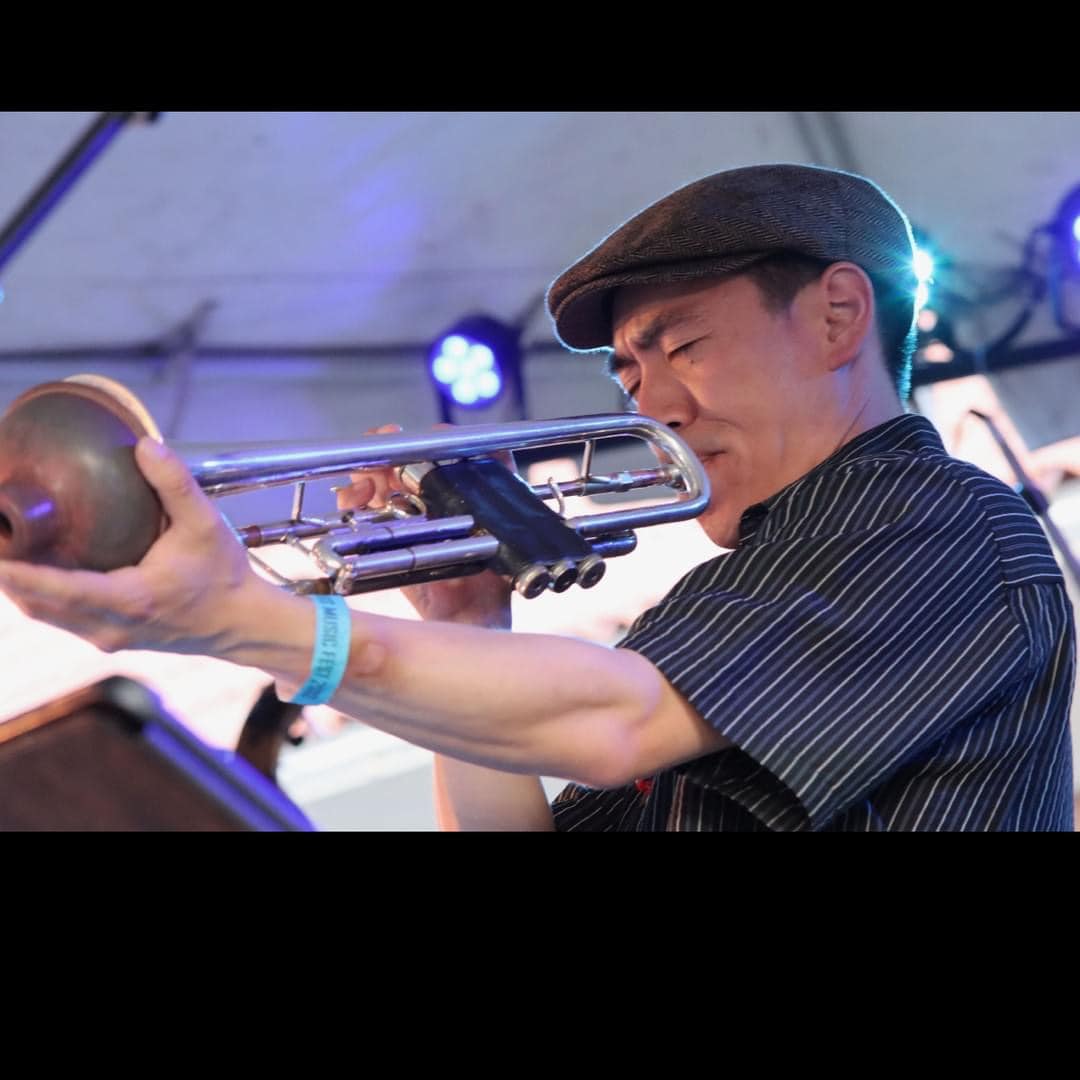 photo by Phil Kampel
Justin is an alumnus of the Sacramento Traditional Jazz Society's jazz education programs and one of the finest high-school jazz programs in the nation. Playing a variety of jazz styles, he has toured New York, Japan, Puerto Rico, China, and Brazil.  He has also played at jazz festivals all over the nation. While living in San Luis Obispo, he served as co-director of the official youth band of the Basin Street Regulars Jazz Society in Pismo Beach, and has worked as a clinician with student musicians at the Teagarden Jazz Festival. As a passionate music educator, he has taught after-school jazz programs in San Juan and Sac City for 4 years, substitute taught in music for 2 years, and became a fully credentialed teacher in 2019. He currently serves as the Director of Jazz Ensembles for the Sacramento Youth Band (since 2018), and instrumental music teacher for Vacaville Unified School District (since 2019).
Justin can be heard regularly with various groups as well as Katie Knipp such as The Crescent Katz, Peter Petty, Harley White Jr. Orchestra, Jessica Malone, The West End Stompers, Element Brass Band, Herdin Cats Big Band, and the Cunha Big Band.
Brandon Au, Trombone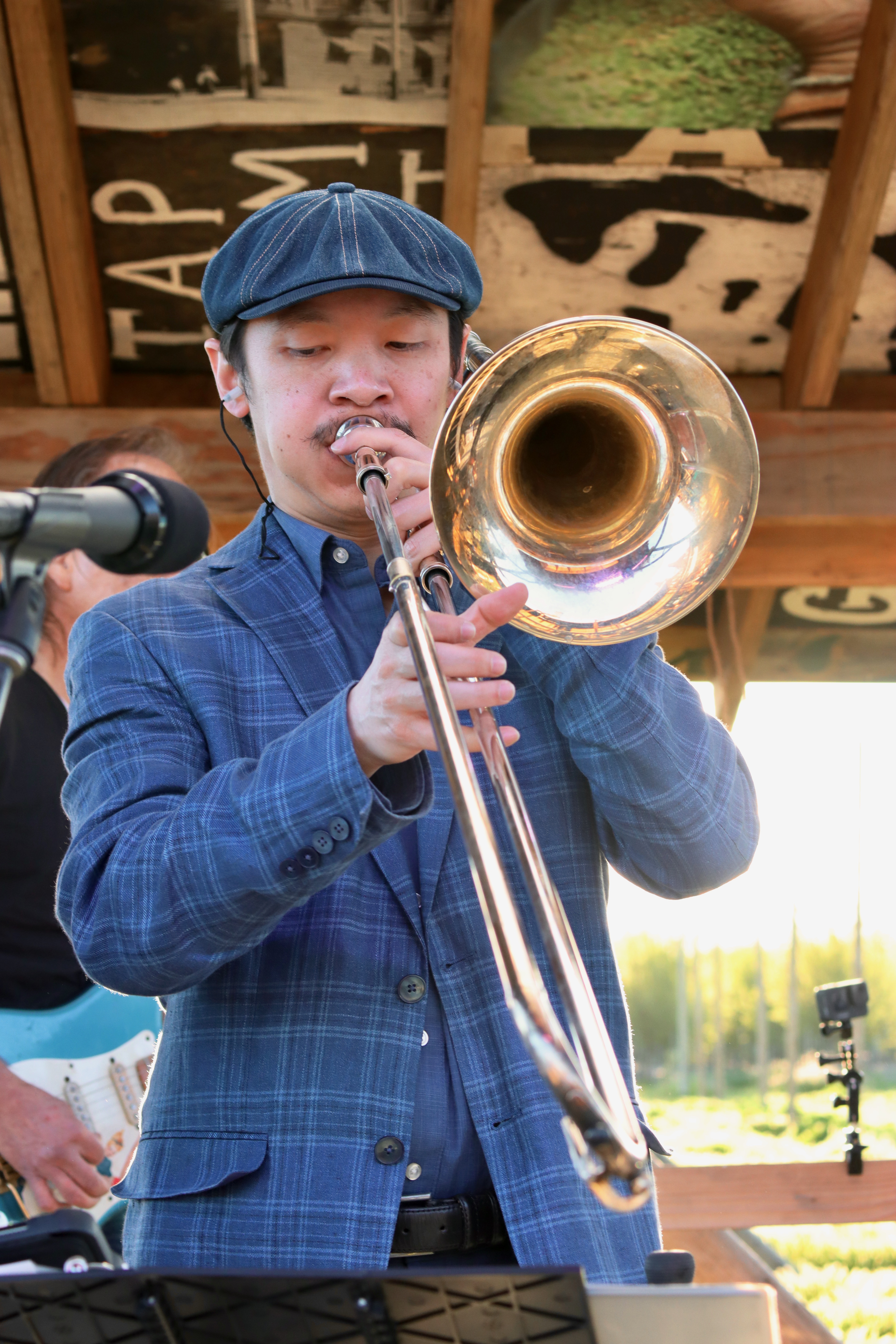 Brandon Au (trombone/english baritone/tuba) teaches low brass and performs traditional jazz regularly in the Sacramento area. Currently involved in the Sacramento Jazz Education Foundation, he has produced educational online content for the Lesson Bank (Youtube) and has worked to integrate Traditional Jazz into school band programs through the Trad Jazz Project; past schools including Arden Middle School, Churchill Middle School, and Sutter Middle School. Before graduating with a music performance degree at CSU Hayward, Brandon toured Europe with the CSU Hayward jazz ensemble, and again with the Stanford Jazz Orchestra. He has worked as a clinician at the Teagarden Jazz Festival, Teagarden Jazz Camp and the Pacific Jazz Camp (UOP).
He has performed with Dave Eshelman's Jazz Garden Big Band, Colossus West, Jacam Manricks Big Band, Byron Colborn Big Band, Anthony Coleman II's Simplistic Big Band, Dellow Band, Tropicali Flames, Pacific Standard Jazz Orchestra, The Nibblers and many more. Brandon has also subbed with Steelin' Dan, Fulton Street Jazz Band, Sister Swing, The Jonathan Stout Big Band, The Grand St. Stompers, Greg Ruby's Rhythm Runners and Cell Block 7.
Today, he can be heard regularly with Katie Knipp, Harley White Jr. Jazz Orchestra, Element Brass Band, Peter Petty & His Terpsichoreans, The Auchestra, The Auctet, The Crescent Katz, West End Stompers, Don Neely's Royal Society Jazz Orchestra, the Jessica Malone Band and The Cunha Big Band.