Neil Campisano, Drums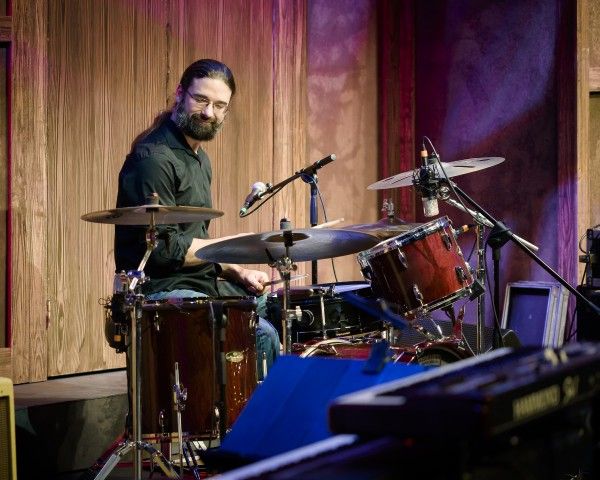 photo by Lee Holmes
It all started back in 1985 when he first heard Spirit of Radio by Rush. From that day on Neil's life would be foreverchanged. Growing up outside of Boston he spent the next summer picking blueberries to save up money for his first drum set, and the rest, as they say is history. Spending his childhood practicing and playing in local bands he had the opportunity to open for Godsmack at The Living Room with his band Madcap back in the 90's, tracked albums for Shine, his high school band and being part owner of Blues Alley Recording Studio he's spent tons of time tracking drums and helping produce bands.
While mostly self taught Neil has had a few perspective changing moments in his drumming career. From a private lesson with Gary Chaffee, to spending a day in the studio with 
Alex Acuna
, to the countless hours spent at drum clinics and live shows where he can usually be found in the best seat in the place; as close to the drummer as possible!!
Since settling in Northern California in 2007 he has established himself as an in demand drummer playing everything thing from Blues to Jazz and Country to Classic Rock with a big ole' helping of the 
Grateful Dead
 catalog. Whether he's sitting in for a headlining spot with Achilles Wheel at Just Exactly Perfect Fest or opening up for Joe Louis Walker at the Sophia Theatre with Katie Knipp, he can easily adapt to the situation at hand. He's had the pleasure of sharing the stage with members of Phil Lesh and Friends, co-billed with the likes of Moonalice and Joe Craven, and has played with over 100 different musicians. These days between fill-ins, one off gigs and the 10 main bands he plays with (Katie Knipp, The Todd Gardner Band, Old Mule, Saints of Circumstance, The Aaron Brown Band, The Nipper Brothers, Commerce TX, Balling That Jack, August Jazz Band and The Joe Nipper Blues Band) his calendar is pretty full, so if you're looking for him there's a good chance you'll find him sitting behind his kit.
Gabe Nelson, Bass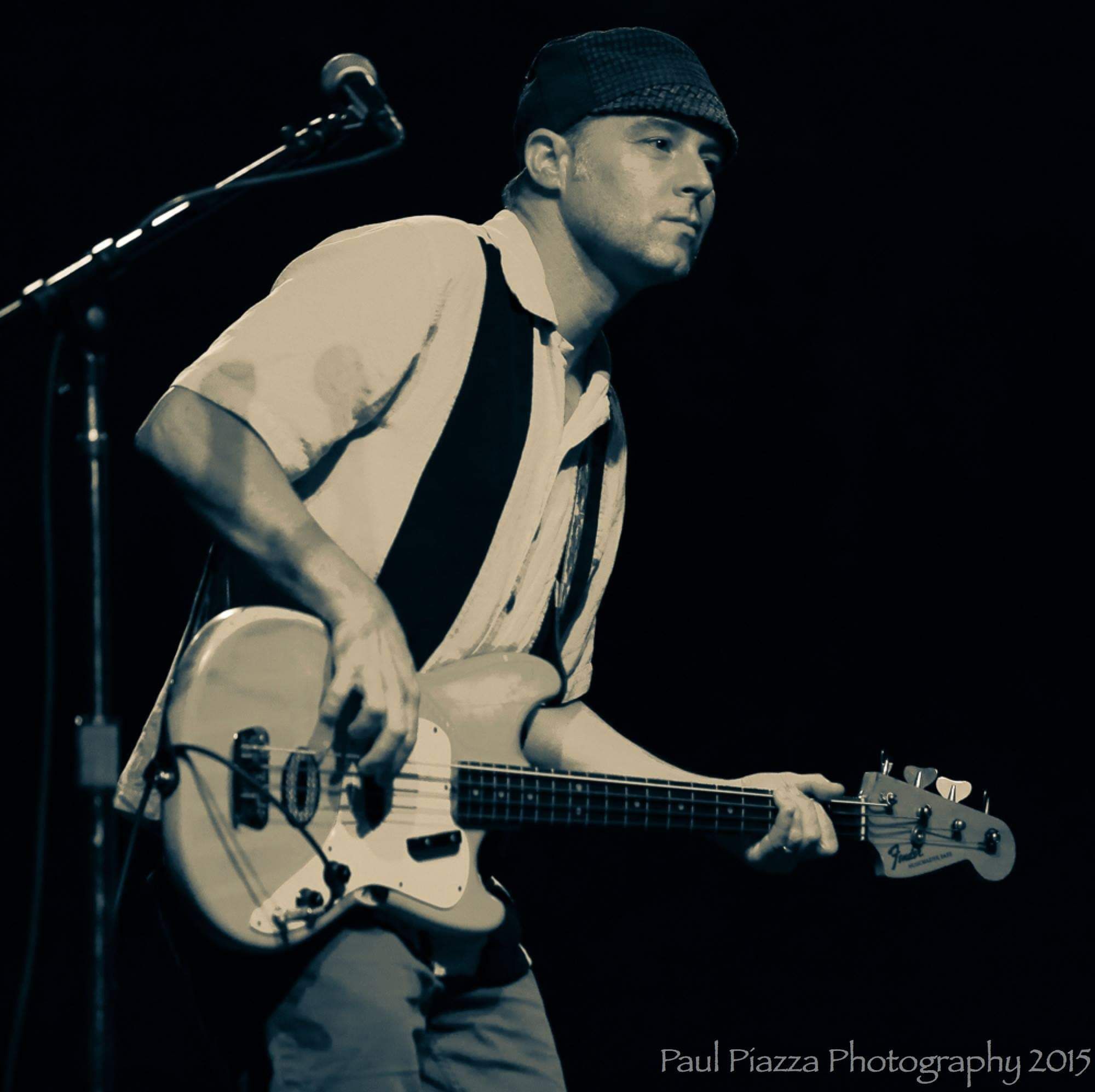 Christopher Gabriel Nelson is an American rock musician from Sacramento, California, best known as the former bassist of the alternative rock band CAKE. Nelson replaced the original CAKE bassist, Shon Meckfessel, soon after the band was formed but left the band himself before the release of their first album, Motorcade of Generosity, which lists Victor Damiani as bassist. After the release of CAKE's second album, Fashion Nugget, Damiani left and Nelson re-joined. After playing bass and helping co-write songs on CAKE's subsequent studio albums, Nelson left the band again in late 2015.
Nelson is lead vocalist and songwriter for the group Bellygunner.  In addition to performing with artists such as Greg Loiacono[2] and the band The Mother Hips, Nelson offers private music lessons to students in the Sacramento area.  He joined Katie's band in 2022, replacing Zack Proteau.
Chris Martinez, Guitar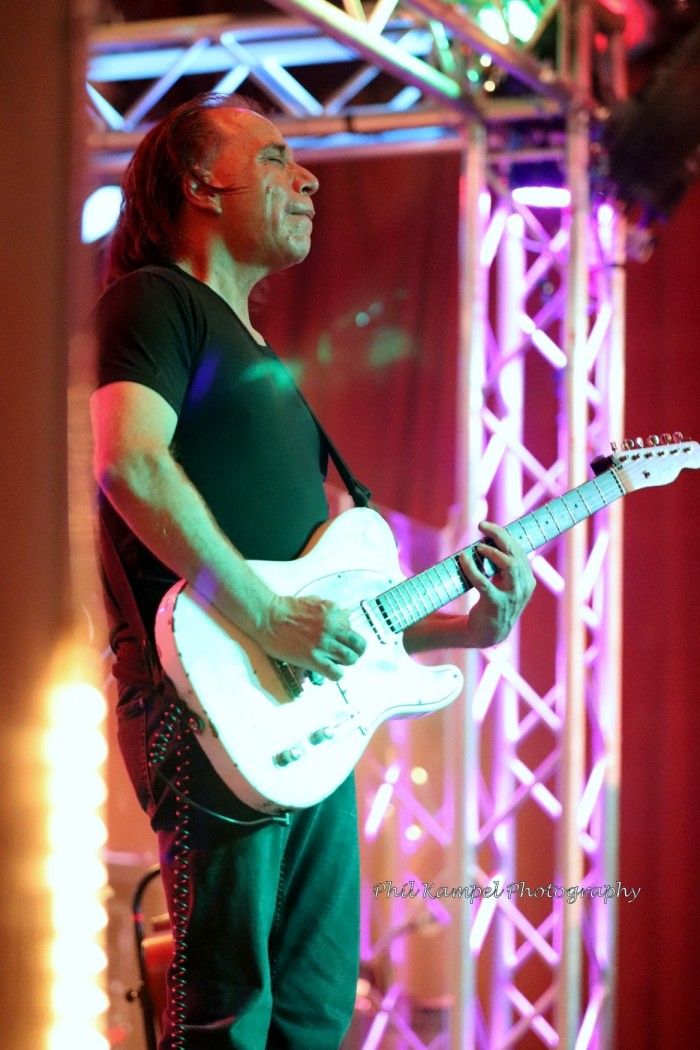 Chris Martinez has had a long Relationship with the blues.  From Northern California, he started as an Acoustic player influenced by Stephen Grossman finger style Ragtime, to bottle neck Robert Johnson, to electric players starting with the three Kings.
With his father being from Texas, Chris has always been drawn to the Texas players Lightning Hopkins, Billy Gibbons, Anson Funderburgh, Jimmie and  Stevie Ray Vaughan. 
He is  most known for his long running Blues trio "Hollywood Texas" started in the early 90's playing clubs and Hells Angels events along with private and corporate events.
With longtime drummer Lance Robbins and a few bass players, Andrew Browne (Beer Dogs) Jay Peterson (little Charlie and the Nightcats) HT was an opening act for Commander Cody, Jimmy Rogers, and many others.
Chris spent much time at Sams Haf Brau (Sacramento Ca) jammin with Johnny Heartsman, Johnny Guitar Knox, Steve Samuels, Omar Sharif, and other local greats.  It was his week day visits to San Francisco to the The Saloon and the Grant & Green that started his friendship with Johnny Nitro who taught him the music (blues) business: "Keep it Greasy... don't get too polished. Continue to play with other artists often." Advice Chris has not forgot.
Chris went on to spend two years Backing blues vocalist  Arbess Williams, later another two with Guitar Mac, opening for Bobby Blue Bland, John Hammond, Albert Collins, Little Milton,Charles Brown, Ray Charles, Chuck Berry. and many others, then in 08 filling a NYE gig cancellation a call from Sacramento guitarist Jimmy Papastathis, bassist Steve Schofer (Mick Martin) Drummer Steve Price (Pablo Cruise) Vocalist Dana Moret (Lydia Pense) Mr December was formed and did many shows. Then in 2010 an opportunity came, Chris  put together a new band called "Hollywood Texas Blues" With Sacramento Drummer Pete Philis, legendary hammond organ player Kevin Burton (Joe Louis Walker) 
NYC Jazz bassist Zach WestFall (session/touring artist) HTB would later tour the lower US states for two years, all before he joined Katie's band in 2019.
Otis Mourning, Woodwinds and Percussion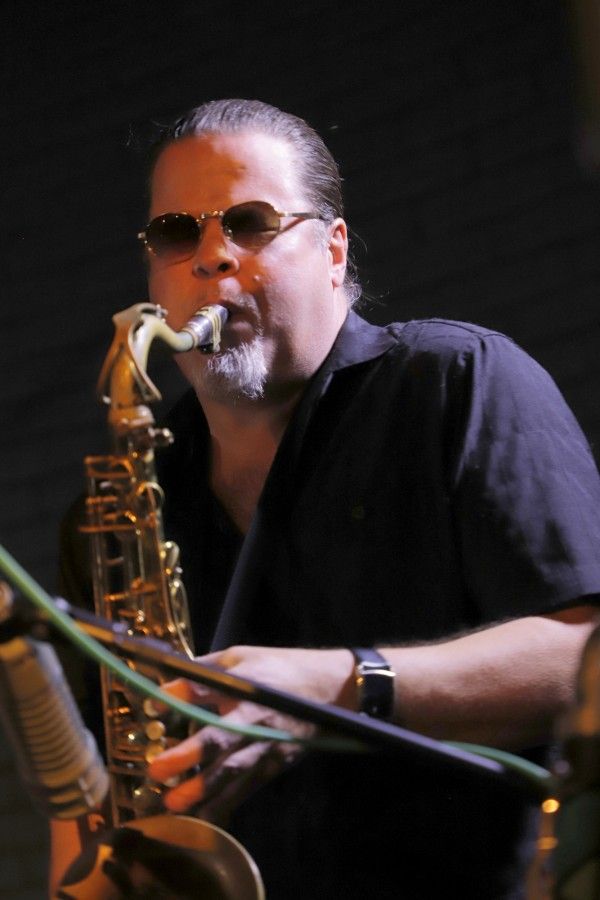 photo by Phil Kampel Photography
Born in Sacramento, CA in 1969, Otis Mourning began his musical career at the age of nine when he bought his first instrument, a Selmer Bflat clarinet.  Within a few months he was asked along with seven other young fledgling musicians to form a band called The Jazzin' Juniors.  Instantly popular initially for their adorability (not necessarily for their talent) they almost immediately began to get a steady stream of paid bookings at small jazz clubs and festivals.  For the next four years, Otis began to develop his musical talent and learn about the art form called jazz.
He continued to play with various school programs and honor bands throughout his high school years.  After graduating high school, Otis got a job clerking at Tower Records but still exercised his passion for music by playing and performing with whomever he could on his off time.  After a couple of years, realizing that this is what he wanted to do with his life, he quit his day job and devoted himself full time to his craft.  (in an interesting side note:  around this time, the Ringling Bros.- Barnum and Bailey Circus offered him the lead alto saxophone chair in the band that tours with the circus.  This would have been a nice steady income for a young unattached relatively unknown musician.  However, with youthful optimism, Otis respectfully declined the offer envisioning a more glamorous future in music.  Two weeks after he would have joined, the circus train derailed, resulting in 15 people being injured and two fatalities.)
Around 1991, Otis co-founded the "internationally moderately famous" Wooden Nickel Jazz Band, which during its ten year run achieved substantial popularity and success in the jazz festival scene.  When not working with the Wooden Nickel, he'd perform five nights a week with the "Sammie award Hall of Famer's", The Beer Dawgs, playing saxophone, accordian, rubboard, percussion and singing.  Juggling many other gigs all the while, he eventually accepted an offer to tour internationally with The 10th Avenue Band.  For the next few years, e travelled around the world playing clubs and festivals in dozens of countries.  He's met and played with a lot of internationally respected musicians at renowned places like the Jazz Club Storyville (Helsinki), Stampen Jazz Club (Stockholm), Club100 (London), the Guinness Jazz Festival (Cork, Ireland), and the North Sea Jazz Festival (Netherlands).
Over the years he's worked with many jazz legends like Diane Schuur, Myron Floren, and Kay Starr and has played on over 60 recordings.  He was also the woodwind instructor at the Mammoth Lakes Jazz Camp for multiple years.  
Currently he plays with Badd Self, Peter Petty, Katie Knipp, among many other groups.